Warm Peach-Raspberry Compote
The perfect ending to a perfect meal is this next recipe, Warm Peach-Raspberry Compote. If you have never had compote before then you need to try it and I would highly suggest you try this one first! It is so delightful, yummy, marvelous, etc…I wish I could share mine with all of you because of how much my family loved it!
Be sure to check out the rest of the recipes I made from the Slow Cooker Revolution cookbook to create your perfect holiday meal!
This recipe is brought to you from America's Test Kitchen
Slow Cooker Revolution Volume 2: The Easy-Prep Edition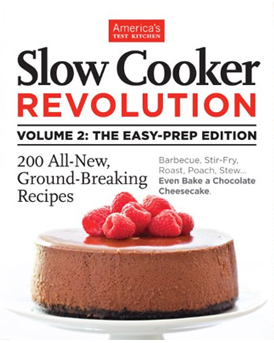 INGREDIENTS:
2 pounds frozen sliced peaches, cut into 1-inch pieces
1/3 cup (2 1/3 ounce) sugar
2 tablespoons instant tapioca
1 teaspoon lemon juice
1 teaspoon vanilla extract
1/8 teaspoon salt
10 ounces (2 cups) raspberries
1/4 cup chopped fresh mint
2 pints vanilla ice cream
Combine peaches, sugar, tapioca, lemon juice, vanilla, and salt in slow cooker. Cover and cook until peaches are softened, 3 to 4 hours on low or 2 to 3 hours on high.
Stir in raspberries and let sit until heated through, about 5 minutes. Stir in mint. Portion ice cream into individual bowls, spoon warm compote over top, and serve. (Compote can be held on warm or low setting for up to 2 hours.)