Holiday Glazed Ham
This recipe is brought to you from America's Test Kitchen
Slow Cooker Revolution Volume 2: The Easy-Prep Edition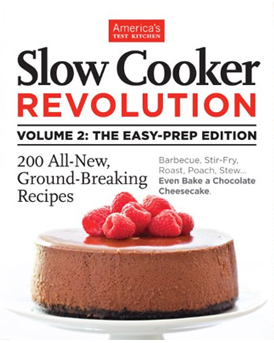 INGREDIENTS:
1 (6- to 7 1/2-pound) cured bone-in ham
1/2 cup apple jelly
1/2 cup packed dark brown sugar
2 tablespoons Dijon mustard
1 tablespoon cornstarch
1 teaspoon pepper
Remove skin from exterior of ham and trim fat to 1/4-inch thickness. Score remaining fat at 1-inch intervals in crosshatch pattern. Place ham, cut side down, in slow cooker. Add 1 cup water, cover, and cook until fat is rendered and ham registers 100 degrees, 5 to 6 hours on low.
Transfer ham to carving board, tent with aluminum foil, and let rest for 20 minutes. Microwave jelly, sugar, mustard, cornstarch, and pepper in bowl, stirring occasionally, until glaze is slightly thickened, about 3 minutes; let cool slightly. Brush ham evenly with glaze and let sit for 5 minutes. Carve and serve.