Ok, I have to admit that we love rice krispies treats in our house! And since I just mixed it up a little with the fruity pebbles treats for kids the other day…I thought I would do mix up a basic rice krispies treat recipe as well! You must know by now, my family eats a lot of chocolate chips…they love them! So, I thought why not add the chocolate chips to the rice krispies treats and as an added bonus add some marshmallows to them as well! They came out fantastic and I now have a new easy rice krispies treat to make for my kiddos!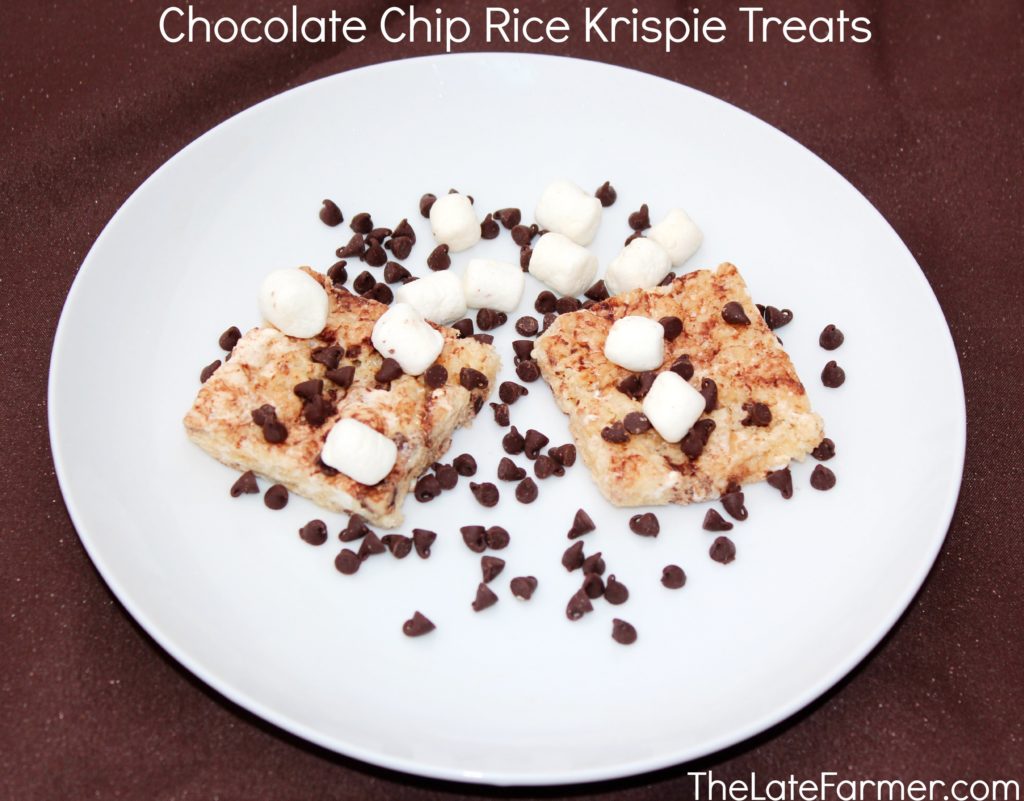 Chocolate Chip Rice Krispies Treats Recipe
Chocolate Chip Rice Krispies Treats
2014-03-31 00:44:48
A new and fun twist to a normal rice krispies treat recipe! Your kids will absolutely love these chocolate chip rice krispies treats!
Ingredients
2 Tbsp Butter
6 cups of Rice Krispies cereal
6 1/2 cups of Miniature Marshmallows
1 1/2 cups of Miniature Chocolate Chips
Instructions
In a large pot place your butter and heat over medium heat.
Next add in your miniature marshmallows 1 cup at a time until 5 1/2 cups of marshmallows have been added.
Stir all of your marshmallows around until they are completely melted.
Add in your Rice Krispies cereal 1 cup at a time until all of the cereal has been added.
Turn the heat off and continue to stir in the cereal, until the marshmallow mixture has covered all of the rice krispies.
Now, let the rice krispies treats cool down for about 30 minutes.
Then fold in your mini chocolate chips by hand.
Now do the same with your marshmallows, leaving a couple extra ones to place on top.
In a greased 13x9 pan, empty your rice krispies mixture into it.
Spread the chocolate chip rice krispies treats evenly inside the pan.
Let the treats cool for about 3 hours and then...ENJOY!! 🙂
The Late Farmer http://onelinksites.com/